I was going to add a sub headline, "For those who do this sort of thing."
Admittedly, I don't snap away at a notch below the speed of light, nor do I determine that any moment of my life beyond the usual banality of life requires a photographic record. Honestly, its more about when I'm moved enough, convenient to stop doing what I'm doing, or find reason to share something. I haven't always been this way. I went through some pretty high end cameras in the (Oh, so distant?) past. Mostly from the impressive line of Canon. Nowadays, I tend to dislike interrupting a real life event or first hand visual experience with fiddling, focusing, steadying, or just holding a techno piece of equipment (No matter how simplistic.) without a targeted purpose. I prefer living most moments with the basic equipment of eyes, ears and tactile senses. Still, I understand the huge value of photographic record, communicated ideas via images, and sharing among friends.
For those of you who see the value of extended involvement in the technology, here's a piece from David Pogue of the Times that might interest you. >>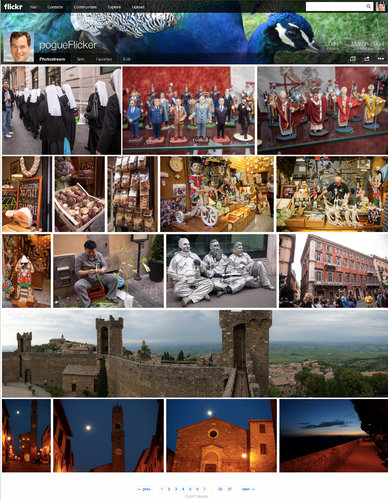 ---
New Flickr: Vast Space for Storage, at No Cost
If you ever want to see just how much whining a million Interneters can produce, try giving them something wonderful at no charge.
Take Flickr, for example, the Web site that Yahoo bought in 2005. Its central concept was cool and useful: It's an online gallery of everyone's photographs that the whole world can search, annotate and admire. It's a place to study photography, to applaud good work by fellow camera buffs, to back up all those precious JPEGs, and to post a photographic record of weddings, vacations and other achievements for friends and families to enjoy.
Flickr was disappointing, however, for two reasons. First, the free account permitted you to display only your 200 most recent photos. The $25-a-year Pro account offered unlimited space.
Second, Flickr was ugly, cramped and baffling. It seemed to display your pictures in only two sizes: tiny square thumbnails (which made no sense — how many photos are perfectly square?) and full size. It took a lot of clicking and experimenting to navigate. And good luck figuring out how to download a photo; the process was so nonintuitive and buried, it could have been a "Saturday Night Live" skit.
Last week, the new Flickr was born. First, the good news: Every free account holder gets one terabyte of storage. That is an insane, historic, vast amount of space. That's enough room for about 600,000 typical photos, enough to last you the next couple of birthday parties, at least.
That's 70 times the free space of the next closest competitor, Google Drive. And those are full resolution photos, too — the originals. Flickr doesn't compress photos, degrading their quality, the way Facebook does.
Print Friendly Full Article >>
Cartoon: Stuart Goldenberg